Well….Today my students worked through a great calculator set of questions that I created for them. For now, it is a free product in my store!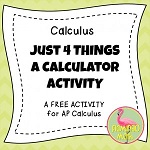 Just Four Things Activity
Boy, I'm not sure what I was doing while making the key, though! GOOD GRIEF!, Charlie Brown! I think I need to pay a proof reader. It's all corrected now and you can try it out. The activity is a real plus, so says my students! They told me that they learned a lot from struggling through analyzing graphs and using the TI-NSPIRE CX-CAS functions…while they practice the 4 things they can do with a calculator and not have to show work in preparation for the AP Exam.
PLEASE DOWNLOAD THE FREE FILE TODAY, with the correct key, of course.Just Sayin!….I am truly bad at proofing! But I love to create curriculum.  The days are ticking away toward that May 5th deadline. I would love to hear what you are doing to prepare. Leave me a word or two!
Get Your Free Math Resources Today
Join the Flamingo Math Flock to receive news, FREEBIES and updates!